Muffins scream versatility with a wide range of flavours covering chocolate, fruit, nuts and oats. they can be crunchy or soft, a bite sized snack or a breakfast meal in themselves.
All muffins are baked fresh to order following the golden rule of muffin making; do not over mix, ensuring a chunky, flavour filled batter.
Our chocolate muffins come in three sizes; Mini, Midi & Maxi. All other muffins come in Midi only. Muffins are sold in minimum orders of 6 of each flavour.
Our Triple Chocolate muffins are an ideal alternative to a birthday cake when placed in a number formation (see pictures) or they could be used for a gift box instead of cupcakes.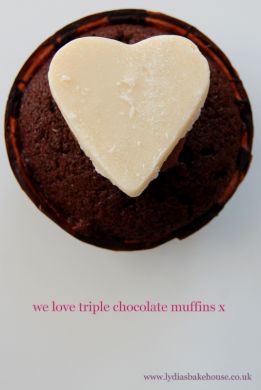 Muffins: Triple Choc
Our triple chocolate muffins are made from a cocoa chocolate mix packed with chunks of 70% cocoa solids, dark chocolate …
Muffins: Apple & Cinnamon
A bite of this muffin will deliver first a crunchy sweet cinnamon hit followed by a moist base filled with chunks o…
Muffins: Spicy Pecan & Maple Syrup
A spicy nut filled base topped with more pecan nuts and sticky maple syrup. This muffins ome in our Midi size…
Muffins: Breakfast Muffins
This muffin is packed full of flavour and goodness with ginger and honey, apricots, muesli and pumpkin seeds. Extra mues…